Richard Gaffin discusses translating the works of Geerhardus Vos (0:10), and Dr. Morven Baker discusses why Ruth is her favorite book of the Bible (3:10).
A premier Reformed thinker
Dr. Michael Horton says, "Like books, people can become 'classics.' Great in their day, but richer and more fulfilling with time. Not yet a classic, Vos's never-before-published Reformed Dogmatics is more like a lost Shakespeare play recently discovered."
Dive into Ruth
The Lexham Research Commentary: Ruth is your starting point for study and research on the book of Ruth. It surveys relevant literature and summarizes a broad range of views you will encounter as you critically study the text. It gives you the tools you need to find fast answers by organizing content from your books in an easy-to-follow format.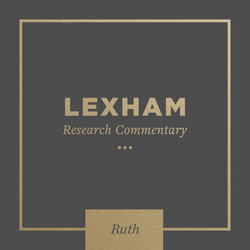 Save up to 40% this month only
Right now, save on resources to help you study the Ten Commandments, St. Augustine, and more. Enjoy works from D. L. Moody, N. T. Wright, and D. A. Carson—all available at outstanding savings. Here are just some of the highlights included in this month's sale:
Save 40%

: Mobile Ed: CH307 Augustine of Hippo: Context and Influence (2 hour course)

Save 30%

:

To Be a Christian: An Anglican Catechism

Save 20%

:

Worldviews and the Problem of Evil: A Comparative Approach

Save 30%

:

Ruth Background and Commentary Collection

(6 vols.)

Save 30%

:

Paul and the Law: Keeping the Commandments of God

(New Studies in Biblical Theology)
There's plenty more to discover, so check out everything on sale—and save up to 40%.