Reading takes you to new worlds, immerses you in unfamiliar cultures, even transports you in time. But it's more than an experience. It teaches, informs, challenges, and engages. It expands vocabulary, improves memory, and sharpens concentration. It even improves writing skills and reduces stress. 
Does any of that sound refreshing—or desperately needed? 
Well, today is National Read a Book Day, your personal invitation to grab a new book and spend a few hours (or even the whole day) reading. 
Here's what a few of us at Faithlife have had our noses in:
Derek is reading Worship Pastor by Zac Hicks.
Owen is reading Alchemy by Rory Sutherland.
Abigail is reading Spirits in Bondage by C. S. Lewis.
In addition to these recommendations, this year for National Read a Book Day, consider reading about a different way to read. Here are four great options.
On Reading Well: Finding the Good Life through Great Books

On Reading Well takes readers on a guided tour through classic literature that highlights the 12 virtues philosophers and theologians throughout history have identified as the most essential for good character and the good life. 
Spiritual Reading: A Study of the Christian Practice of Reading Scripture

Should the process of reading the Bible differ from reading other texts or writings? Drawing upon insights of theologians such as Karl Barth, Henri de Lubac, and Ellen F. Davis, Spiritual Reading posits the particulars of Christian belief should profoundly shape the distinctive practice of the spiritual reading of the Bible.
Take and Read: Reflecting Theologically on Books

Take and Read offers samples of theological readings of a variety of books. The result is a collection of essays addressing a wide range of topics from food security to violence, from dementia to indigenous issues. It's an invitation to join a conversation about how to reflect theologically on books, and more importantly, about God.
Lit! A Christian Guide to Reading Books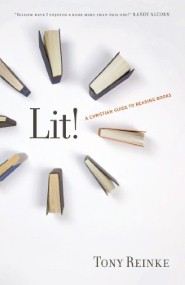 Learn how, what, when, and why you should read with this helpful guide from accomplished reader Tony Reinke. Lit! A Christian Guide to Reading Books is a theology for reading with practical suggestions for reading widely and well—and for making it all worthwhile.