In this Faithlife Today webinar, hear from worship leaders Shane & Shane who discuss their process of writing worship songs and the centrality of Scripture as well as how their ministry, the Worship Initiative, resources the Church.

Check back each Monday for a new webinar, or head to faithlife.com/live to see all past guests.
Learn more about worship that pleases God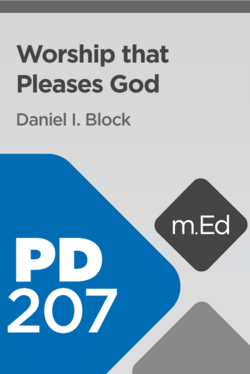 In Worship that Pleases God (PD207), Daniel I. Block focuses on what the Bible says about worship. Dr. Block begins by looking at the words used for worship in Scripture, the fear of the Lord, and a definition of worship. From there, he explores whose worship is acceptable to God and God's expectations for corporate worship. Dr. Block examines both New Testament and First Testament Scriptures related to these subjects with the goal of showing the constancy of elements of worship that please God. The course concludes with practical suggestions for cultivating authentic biblical worship in church.
Pre-order Worship that Pleases God (2 hour course) now.
Save up to 40% this month only
Right now, save on resources to help you study the Ten Commandments, St. Augustine, and more. Enjoy works from D. L. Moody, N. T. Wright, and D. A. Carson—all available at outstanding savings. Here are just some of the highlights included in this month's sale:
Save 40%

: Mobile Ed: CH307 Augustine of Hippo: Context and Influence (2 hour course)

Save 30%

:

To Be a Christian: An Anglican Catechism

Save 20%

:

Worldviews and the Problem of Evil: A Comparative Approach

Save 30%

:

Ruth Background and Commentary Collection

(6 vols.)

Save 30%

:

Paul and the Law: Keeping the Commandments of God

(New Studies in Biblical Theology)
There's plenty more to discover, so check out everything on sale—and save up to 40%.