Bobby Conway talks about the One-Minute Apologist and how it got its start (0:10), and Dr. Steve Runge talks about questioning our own expectations when interpreting the Bible (4:00).
Keep learning from Dr. Conway with Introducing Evangelism
Gain confidence to share and defend your faith with this course from apologist, author, and pastor Dr. Bobby Conway. Examine the biblical definitions for "evangelism" and "apologetics" so you can live out the Great Commission in your home, workplace, and community. Acquire useful and proven strategies to overcome the most common challenges, such as facing your fears and answering hard questions. Simplify your outreach program and engage your culture biblically with Dr. Conway's five-part approach to evangelism. Whether you desire to do more personal evangelism and apologetics, or whether you desire to equip others for the ministry, Dr. Conway provides the instruction you need.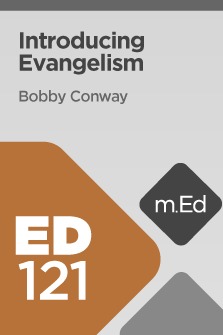 Get Introducing Evangelism today!
Master discourse analysis with Dr. Runge
In his discourse analysis courses, Dr. Runge explains linguistic devices—the building blocks of discourse analysis—and how understanding these devices can help us better understand the New Testament writers' intentions. You'll learn how to recognize these devices in the text, what they contribute to your exegesis, and how they can sharpen your exposition of the text. You'll then put these methods into practice with Dr. Runge's help as he guides you through Philippians.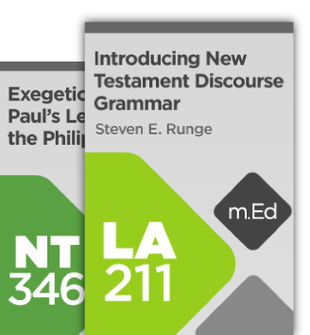 Get the Mobile Ed Discourse Analysis Bundle.
Save up to 40% this month only
Right now, save on resources to help you study the Ten Commandments, St. Augustine, and more. Enjoy works from D. L. Moody, N. T. Wright, and D. A. Carson—all available at outstanding savings. Here are some of the highlights included:
Save 40%

: Mobile Ed: CH307 Augustine of Hippo: Context and Influence (2 hour course)

Save 30%

:

To Be a Christian: An Anglican Catechism

Save 20%

:

Worldviews and the Problem of Evil: A Comparative Approach

Save 30%

:

Ruth Background and Commentary Collection

(6 vols.)

Save 30%

:

Paul and the Law: Keeping the Commandments of God

(New Studies in Biblical Theology)
There's plenty more to discover, so check out everything on sale—and save up to 40%.