In this Faithlife Live webinar, we talk with Super Bowl MVP and Champion Nick Foles about his journey of faith as a professional athlete—the highs, lows, and most importantly, God's faithfulness through it all.
Check back each Monday for a new webinar, or head to faithlife.com/live to see all past guests.
Learn more about Nick Foles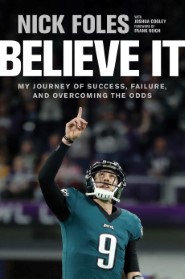 When the Philadelphia Eagles' starting quarterback went down with a torn ACL in week 14 of the 2017 NFL season, many fans—and commentators—assumed the Eagles' season was over.
Instead, Nick Foles came off the bench and, against all odds, led the Eagles to their first Super Bowl victory in history.
How did Nick get it done—winning MVP honors, silencing the critics, and shocking the world? Believe It offers a behind-the-scenes look at Nick's unlikely path to the Super Bowl, the obstacles that threatened to hold him back, his rediscovery of his love for the game, and the faith that grounded him through it all.
Save up to 40% in July's Monthly Sale
This month only, save on resources that help you better understand the Sermon on the Mount, Bible study methods, and more. Enjoy outstanding works from R. C. Sproul, D. A. Carson, and Craig Blomberg available at exceptional savings. Here are some highlights included in this month's sale:
There's plenty more to discover, so check out everything on sale—and save up to 40%.