Kristen Tetteh talks about the origins of Faithlife Proclaim Presentation Software for churches (0:10), and a tip on learning biblical Greek in Logos (3:15).
Keep learning biblical languages with Logos
Whether you want to learn Greek and Hebrew for the first time or are simply looking for a refresher, Michael Heiser and H. Daniel Zacharias are excellent guides. With this tools-based approach, you'll learn the terminology, tools, and methods needed to interpret words and passages of Scripture—without memorization. Each course is transcribed and becomes a searchable Logos resource connected to grammars, reverse interlinears, and other resources in your library. Read along as you watch the lectures, and jump to recommended readings with a click.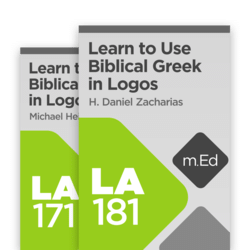 Get Mobile Ed: Learn to Use Biblical Greek and Hebrew in Logos (2 courses), now on pre-order.
January's free book
Get Christianity on Trial free now, then explore three other books on apologetics, each only $4.99 during January:
Faith Has Its Reasons: Integrative Approaches to Defending the Christian Faith
Is Believing in God Irrational?
God and Evil: The Case for God in a World Filled with Pain