During the back-to-school sale, we're giving away a new free book each week! Get your free book today.
School is an integral step in your journey as a professional, an intellectual, and a Christian. The education you pursue plays a key role in shaping the way you think and how you approach the rest of life. You use time and money from the present to invest in your future.
Logos Bible Software helps lighten the load by saving you time and money with tools you'll keep using in the future. That's why during the back-to-school sale we're offering steep discounts on more than 40 of the best academic resources. If you're in the classroom, taking courses online, or doing personal study, Logos has something to help you get the most out of your education.
Original language resources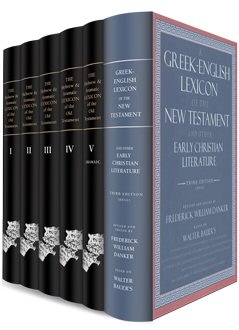 The BDAG/HALOT Bundle is one of our best-selling resources from 2014, and it's a must-have tool for anyone studying the original languages. During the back-to-school sale, this prestigious academic tool is $25 off.
The Logos Bible Software edition of BDAG and HALOT provides you with lexical information at the click of the button. BDAG and HALOT integrate seamlessly with the rest of your resources. For example, all Scripture references within BDAG and HALOT appear on mouseover and are linked to the Greek and Hebrew texts and English translations in your library. What's more, you can customize your library to automatically open BDAG or HALOT whenever you double-click on a Greek or Hebrew word in any of your resources.
Add the BDAG/HALOT Bundle to your library today.
Commentaries
The New International Commentary on the Old and New Testament is a decades-long project, recognized by scholars, pastors, and serious Bible students as a critical yet orthodox commentary. These authoritative scriptural guides bridge the cultural gap between today's world and the Bible's. During the back-to-school sale, the entire 47 volume collection is 33% off.
Watch this video to see what you can do with the New International Commentary Series:

Get the New International Commentary on the Old and New Testament.
Logos for school. Logos for life.
Whatever your educational goals are, the Logos back-to-school sale has tools to help you get there. You'll find theologies, dictionaries and reference works, education essentials, and more. When you get these tools in Logos, your education doesn't end when you graduate. The interconnected library you build today will continue to help you find answers, wherever your education takes you.