With Easter on the horizon, many churches are preparing to welcome visitors and get them connected at your church. And at Faithlife, we've got all-new features coming your way to serve your congregation while keeping you focused on ministry.
If you subscribe to Faithlife Equip, these features and resources are already yours. And if you're not using Faithlife Equip yet, now's your chance to get an integrated ministry platform that slims down your workload, empowers your congregation, and saves you money. 
Here's what's new in Faithlife's integrated ministry platform:
1. We've got brand-new stock photos and graphics designed for churches all loaded up and ready for you to use. In fact, we add nearly 10,000 images a year (whoa!), so there's always something fresh in your media catalog.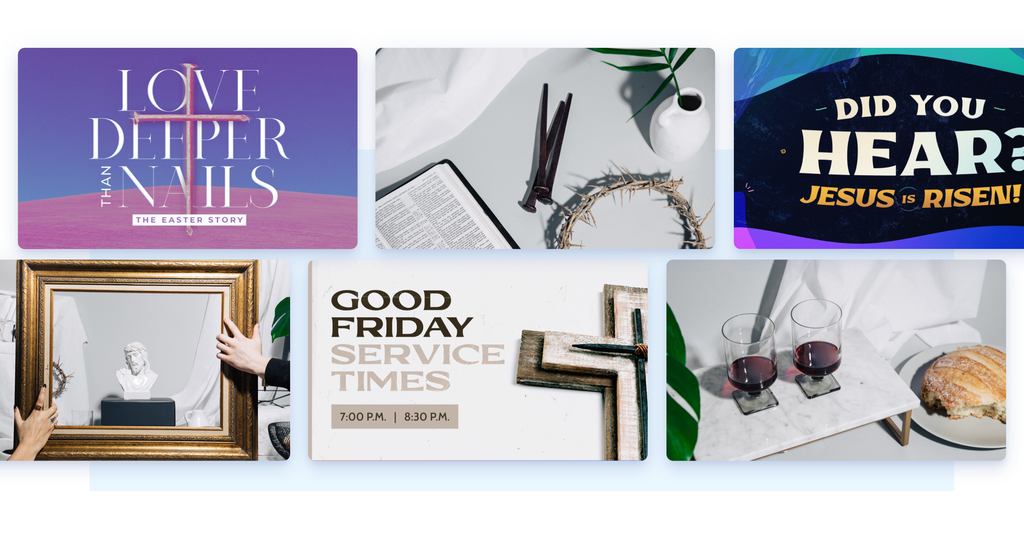 2. Faithlife Proclaim's virtual screens allow you to show different things on different screens. You can show a Bible passage on one screen and a video on another screen in your sanctuary, or display song lyrics for your in-person attendees and video with overlaid lyrics for live stream attendees. And with this recent update, it's better than ever and gives you even more options. Learn how it works here.

3. Two brand-new Logos Mobile Education courses are now live for your entire congregation:

a. BI202 Reading the Bible as a Complete Story—In this 4-hour course, Drs. Chip Bennett and Warren Gage teach that the Bible's sixty-six book collection is ultimately the profound work of a divine author and tells one story with Jesus as the central theme. They show that reading of the Bible from this perspective does not contradict but rather complements a traditional historical-grammatical hermeneutic, providing a more holistic reading of Scripture and opening up entirely new vistas in understanding the Bible. Watch the trailer here.

b. CS261 Christian Marriage: The Beautiful Order for Christian Marriage—In this course, Dr. David Ayers provides an in-depth look at Christian marriage, beginning with its definition and design by God. He also looks at what social science research and data says about the purpose of marriage and how much this affirms what the Bible expects us to see in terms of how marriage works and what happens when marriage doesn't work. The course concludes with guidance for building strong marriages, including some strategies for churches to help build stronger marriages. Watch the trailer here.
4. Logos Bible Software just gets better and better!

a. Sermon Manager improvements: Now you can print or export your sermon metadata from the Sermon Manager on Logos. You can also import your sermon metadata into Logos from a CSV. (Available in Pastoral Premier with Faithlife Equip or in Logos 9 Silver.)

b. Trying to find or figure out Logos Documents and Tools? Each panel menu now connects you with a Faithlife group where you can talk with (or ask for help from) other Logos users. To try it out, simply click Discuss this feature from the panel menu.

c. Trying to find the perfect book to round out your library? Look at the Store tab in your Logos library to browse and sort books you don't yet own by series, type, subject, and more. Learn more here.

Schedule your demo or get started with Faithlife Equip today!